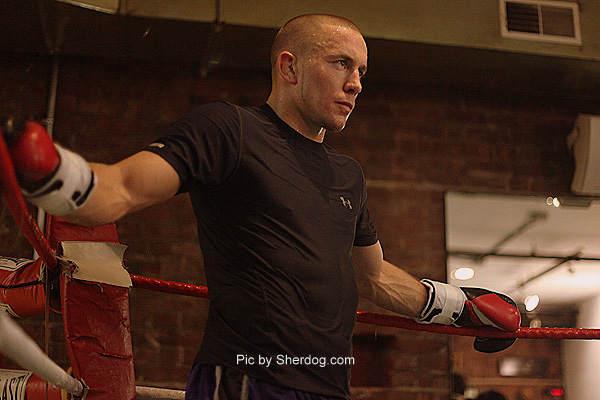 Georges St. Pierre (GSP) has fought his way back from a detrimental injury to regain his welterweight title after a convincing 5th round victory over former interim belt holder Carlos Condit. Before the sweat had dried from that defeat, Dana White was tossing around thoughts of a super fight between GSP and Anderson "The Spider" Silva.
There are several opponents that would be a fair match up for GSP. Who deserves the next shot at the title? Will it be a matter of fairness or personal retribution?
One option for St. Pierre is the super fight with Anderson Silva that Dana White is hoping to see take place apparently. This fight would be a catch weight for both fighters, but it is not the fight GSP is seeking in his career at this time.
After getting into the best shape ever after his knee injury, GSP is reluctant to gain weight for this super fight to forfeit the dominating reign he has established at the 170 pound weight class. GSP gives up a remarkable amount of size in height and weight in this super fight.
He would need to rely on his wrestling heavily and grind out a decision, because standing with Silva would simply not be an option. Most likely Anderson Silva would be much more fluent in the striking department. Silva is 37 years old, 6'2, and rumored to have a walk around weight of 225-230 pounds.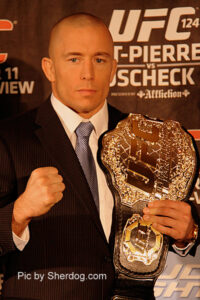 GSP is only 31 years old, but he is 5'10 and walks around at about 194 pounds. People argue that Anderson Silva is unbeatable, but is the end of his mixed martial arts career rapidly approaching? Could GSP, a skilled mixed martial artist in the middle of his prime win this super fight? Although this may be a monumental fight in the UFC, Georges St. Pierre still has a lot to prove in the 170 pound division so this super fight is not high on his priority list at this time.
Has Johny Hendricks earned his stripes inside the octagon? He looked tremendous against Martin Kampmann the same night GSP defeated Condit, therefore leaving many people questioning whether or not he is the true number one contender for the UFC Welterweight Gold.
Hendricks entered into the UFC with an impressive rap sheet. His former titles include being a collegiate wrestler for Oklahoma State University, a two time National Champion, a 4-time All American at OSU, and a three-time Big 12 Conference Champion. Since entering the UFC, he has developed remarkable striking abilities as well.
When combined with his fully developed ground game, Hendricks poses a real threat to anyone in the octagon, with GSP being no exception. And that is exactly what he wants. Hendricks believes he has done enough to deserve a shot at the title.
Is the National collegiate champion wrestler enough to stop the relentless takedowns and ground attack of Title Holder Georges St. Pierre? Although very skilled on the ground, Hendricks would need to keep this fight on his feet in order to guarantee his road to victory and the welterweight belt being placed around his waist at the end of the night.
St. Pierre seems to have a different opponent in sight for his next fight though. On two occasions, GSP was supposed to defend his title against the Strikeforce title holder, Nick Diaz. However, after a no-show by Diaz to media obligations and a knee injury suffered by GSP, their paths have yet to cross in the octagon.
Over time, there has been a multitude of trash talking between St. Pierre and Diaz stemming back to Diaz claiming St. Pierre was ducking him with a false knee injury and Diaz also mimicked GSP via Twitter in regards to his defeat over Carlos Condit using the champs infamous line, "I am not impressed by your performance", that GSP used in regards to one of Matt Hughes' victories in the past.
Nick Diaz is a completely different fighter than Georges St. Pierre. How will the reserved Canadian react to the Stockton Bad boy antics inside the ring? Secondly, GSP can normally depend on his high level conditioning to carry him through the fight longer than his opponents; however, he may be out matched by the triathlete competitor Nick Diaz in that department.
He is an aggressive striker who keeps the punches in bunches and pushes a pace on his opponents, forcing them to break. Will GSP be able to handle the pressure? This fight is totally unpredictable. Diaz is seemingly the better striker, yet GSP is relentless with his takedowns and has strong ground and pound.
He stays busy on the ground, constantly attacking and passing positions to inflict the most damage possible, while not providing the opponent with a chance for submissions or scrambles. How will the Cesar Gracie black belt holder, Nick Diaz, handle Georges St. Pierre's world class wrestling? This is a great fight because the outcome is unpredictable. GSP requested this fight because he feels it is long overdue. The personal tension that has developed between these two fighters is only an added bonus that builds the fight even more.
UFC President Dana White, stated that he has made attempts to contact Nick Diaz to officially offer him the GSP fight, but has been unsuccessful so far. He also reached out to Diaz's younger brother, Nate, just days before his light weight title fight against Benson Henderson, in an attempt to contact Nick. Nate expressed to Dana that he has also been trying to contact Nick.
At this time, this fight is not yet official, but if GSP has anything to say about it, he will get his shot at Nick Diaz in 2013. People want to see this fight for many different reasons. Regardless of the motives behind this fight, it will be sure to please all the viewers because both of these fighters will show up to fight with a vengeance.
Watch a sick fan made promo for potential future fight, GSP vs. Diaz, in the video below.
Video courtesy of NickTheFace2