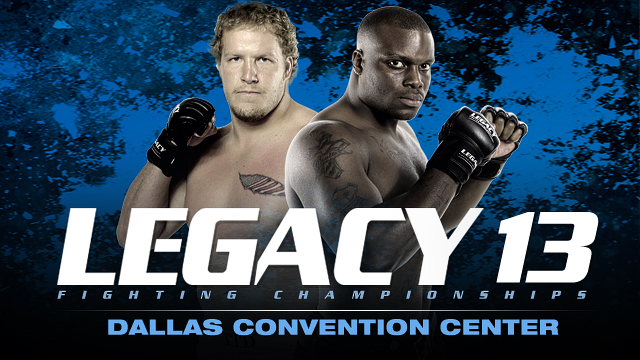 It ain't easy being a big man/fighter in a world of smaller men/fighters. Undefeated heavyweight prospect Jared Rosholt has learned this the hard way. Rosholt said an "ibuprofen diet" is a requirement during training, when he does everything his smaller and more agile Team Takedown teammates do. Admittedly, though, he pays the price for it.
"I wake up everyday and grab some ibuprofen and say, 'Let's get this started,'" Rosholt told mmajunkie.com/radio. "I'm on an ibuprofen diet during this training camp."
Rosholt hopes his hard work pays off tonight at Legacy Fighting Championship 13 at the Dallas Convention Center in Texas. Rosholt (4-0) and Derrick Lewis (7-2) headlined the AXS TV-televised event, and the organization's vacant heavyweight title is on the line. It's Rosholt's final challenge for awhile.
"I do every workout these small guys do, these welterweights and 185-pounders and 205-pounders," he said. "I do every workout. Everything. At 263 pounds, I think working hard and doing these things, they were you out."
Rosholt can do almost everything the other guys do. After all, his brother, former UFC fighter Jake Rosholt, gained some internet fame with his video showing him jumping out of three feet of water, backward and forward. All from a standing-still position.
"We do quite a bit of swimming," he said. "At least once a week we do laps and swimming exercises to give our bodies a rest without so much wear and tear. You'd think me being the whale of the group, I couldn't do so well.
I may look like a whale, but I win the races almost every time. "Swimming is just awesome. It's really hard. It's good cardiovascular (exercise) without running and jamming your knees and back and pounding on them. It's good for elastic muscles and legs. It's pretty much injury free."
Watch below as Rosholt and Derrick Lewis exchange words.

VIDEO COURTESY OF THE INSIDE MMA SHOW..
Rosholt was a 2010 NCAA Division I national runner-up and three-time All-American wrestler who picked up more wins than any other heavyweight in Oklahoma State University history.
His wrestling skills will always be his base, but the striking makes it so much easier. "I really like the striking," he said. "It's really interesting learning to put combinations together. I've blended it pretty well with my wrestling lately.
It's the perfect setup. If you can get [opponents] covering their heads with their hands, that's gold. You don't get much better opportunities for a double-leg takedown than that."
Rosholt is still young and growing in the sport, and like many fighters, has the UFC in his crosshairs for the future.
"Just watching these guys who fight in the UFC right now, it's hard to watch because I'm like, 'These are the so-called gatekeepers? The top 10?'" Rosholt said. "Watching them, I'm like, 'I think I could really run through some of these guys.'
"But that's the future. Experience is what's going to me there. … Within the next year, I want to be in the UFC and show these guys what I can do."