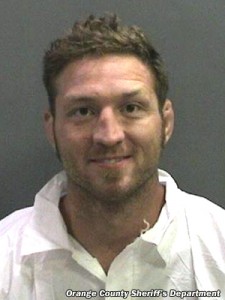 He's been well documented as one of the most colorful athletes to ever grace the UFC cage. He's fought an elite list of top level talent throughout his MMA career, hosted tv shows, and gained a huge fan base along the way.
Hearing of the latest self destructive move on the part of Jason "Mayhem" Miller came as a shock, but not a huge one. He's hit a rough patch in his career of late and hasn't seemed to be handling it well with his recent Twitter battle with UFC President Dana White.
If you've been living under a rock for the past week then maybe you are unaware of what has taken place so hears a quick breakdown.
Early Monday morning, the Orange County Sherriff's department received a call about a possible burglary in progress at a near by church, according to authorities.
Upon arriving on the scene, police found fire extinguishers sprayed throughout the church, books, cd's, and broken pictures scattered everywhere in a trail that led to the 2nd floor where "Mayhem" was found awake and completely naked on a couch.
He was taken into custody where he received a psych evaluation before being booked. After spending Monday in Orange County Jail, Miller was released Tuesday on $20,000 bail after being charged with suspicion of burglary.
He may also face vandalizim charges as well in the future.
"The Inside MMA Live Show" breaks down the incident in the video below and even includes a clip where Dana White discusses his take on Miller and their recent Twitter feud
….

VIDEO COURTESY OF HdNetFights..
Often outspoken and never one to shy from controversy, Miller may have put a black eye on the sport of MMA for the moment. Newspapers around the U.S. that you would never publish an MMA story, jumped all over this one.
Was this a cry for help or just another silly publicity stunt on Millers part? Hopefully as this case unfolds we will find out more and hopefully someone will be able to reach out and help this obviously troubled MMA star.