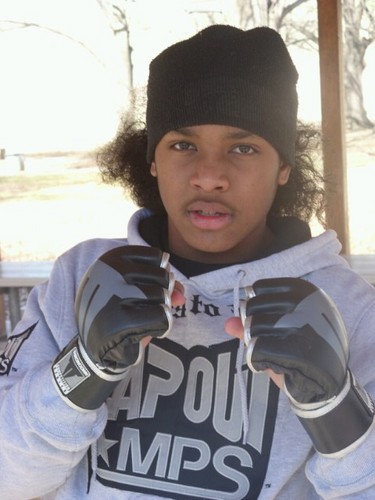 I'm 14 and I grew up in the state of Mississippi. I used to be obsessed with wrestling. After watching Never Back Down and then a trailer for Ufc 116 with Brock Lesnar and Shane Carwin, everything changed.  I went from loving Wrestling to MMA pretty much over night.
In 2011 I enrolled in Taekwondo, and in March of 2012 I went to Hawaii where I was born. I trained in some Muay Thai and Jiu Jitsu and couldn't get enough of it. I also did some MMA conditioning with MMA trainer Arden Costales at the time.
Hit me up on twitter:
@Micahtaekwondo
But when I returned back from vacation my only option in the area I live in is Taekwondo. Unfortunately, there aren't any MMA gyms here. I just have to practice what I know.
My 2 favorite mma fighters are Cain Velasquez and Ben Henderson. I have a favorite fighter for every weight class:HW-Cain Velasquez, LHW-Shogun Rua, MW-Alan Belcher, WW-Erick Silva, LW-Ben Henderson, FW-Chan Sung Jung, BW-Urijah Faber FLW-Joseph Benavidez
My personal mantra:  My goal is not to be a UFC fighter, but a UFC CHAMPION. One Day all the hard work will pay off, and I will get my hands on a UFC BELT!
<